CEDAR BLUFFS COMMUNITY WELLNESS CENTER
- 1 PhysioStep
- 1 Upright Cycle Bike
- 1 Recumbent Bike
- 3 Matrix Treadmills
- 3 Cybex ARC Trainers
- 1 ClimbMill
- 1 Rower
- 1 Cable Crossover
- 1 Lat Pull Down/Low Row
- 1 Leg Extension/Leg Curl
- 1 AB and Back Combo
- 1 Multi Chest Press
- 1 Leg Press
- 1 Functional Trainer
- Kettle Bells
- Dumbbells
- Medicine Balls
- 2 sets of Weighted Ropes
- 1 Push - Pull Sled
- 4 Soft Plyometric Boxes
- 4 Half Racks with Platforms
- 1 Half Rack with Jammer Arms
- 2 Glute/Hamstring Benches
- 1 Arm Curl
- 1 VERTIMAX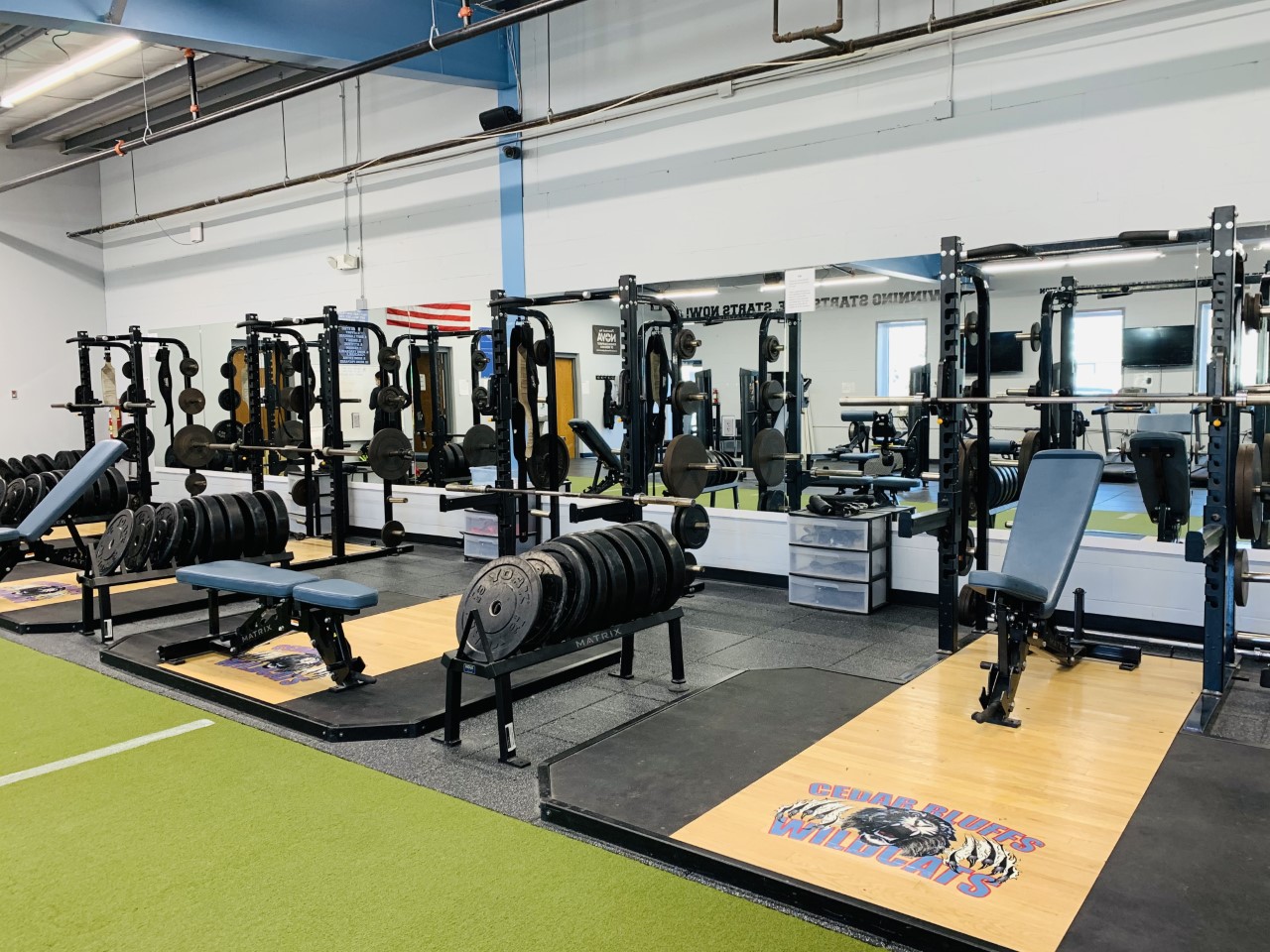 The Cedar Bluffs Wellness Center is a newly finished 3, 160 square foot building attached to Cedar Bluffs Public Schools. The wellness center is available to use by patrons and alumni associated with the school district and community of Cedar Bluffs. Memberships are available to employees, alumni, residents of and those with students in Cedar Bluffs Public School District. Members must be 18 years or older. Membership and access to the Wellness Center will be limited to those with character appropriate for being in a school environment.
The Cedar Bluffs School Wellness Center is open 24 hours a day, 7 days a week with access granted by computerized cad entry systems. The school and students have priority use on all equipment.
Rules for use of the Wellness center must be followed by all members. These rules may be changed from time to time by the Board of Education or school administration. A failure to follow the rules may result in immediate loss of membership or other restrictions on use.
A computerized card entry system will be in use. Each member will be issued an access card. In the event the card is lost, a replacement will be issued at a cost of $20.00. Members caught sharing a card will result in revocation of membership.