Cedar Bluffs Hall of Fame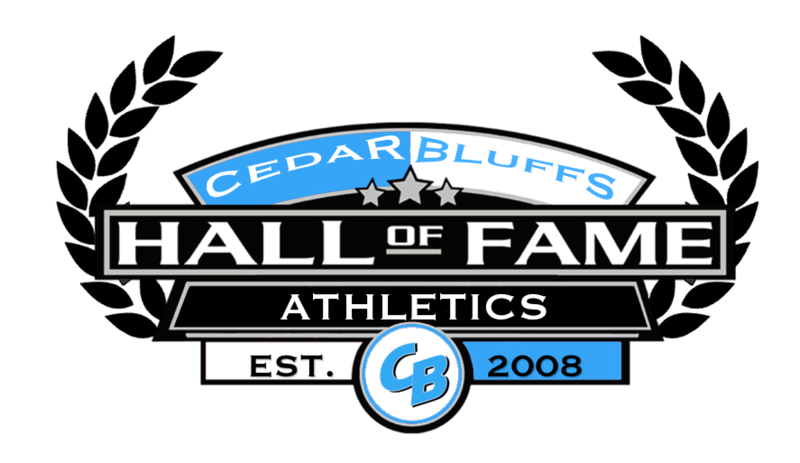 Darcy (Siebels) Cleveringa – 1987
Darcy was a three-time Nebraska Track and Field All-Class Gold Medalist in the 100 hurdles and holds the Class C state record in the event. She was an All-Class Gold Medalist in the 300 hurdles in 1987. She holds school records in the 200 meters, 100 hurdles, 300 hurdles, and long jump. Darcy went on to be a nine-time All-American at the University of South Dakota. She was a two-time NCC champion in the 55 hurdles and heptathlon. She finished 6th in the heptathlon at the NCAA Championships in 1990 and 7th at Nationals in 1989. In 2002 Darcy was inducted into the Athletic Hall of Fame at the University of South Dakota.
Deb (Peterson) Kirchmann – 1982
Deb has donated thousands of hours of her time to Cedar Bluffs and the Cedar Bluffs school system, including: School Board member, Cedar Bluffs emergency nurse, active member of the Presbyterian Church, elementary track meet volunteer, helps with upkeep of the walking trail, volunteers at post-prom parties, softball coach and clinic organizer, softball/baseball board member, junior high volleyball coach, elementary basketball program coordinator/coach/camp organizer, 10,000 shot club president, super shooter organizer, and basketball game bookkeeper to name a few. She has done all this while working full-time as a nurse at FAMC and raising three children. Deb earned letters in volleyball, basketball, and track, was a cheerleader, and active in band and drama. She is recognized on the basketball career assists school record.
Brad Nick – 1981
Brad was the 1981 Class C State Track and Field Champion in the 3200 meters and also placed in the 1600 meters. He currently holds the school record in both events. Brad was also a member of the 1981 Cedar Bluffs Track Team that won the East Central Nebraska Conference Meet and was runner-up in Class C at the Nebraska State Track Meet. He went on to star at Midland Lutheran College in both track and cross country and holds Midland's school records in the three mile; 5,000 meters; 10,000 meters, and marathon. He is now a successful attorney in Fremont, Nebraska.
Tim Kruse – 1981
Tim was All-Area in football and holds several school records for pass receptions and total offense. He was also All-Conference in basketball and as a senior was selected to play in the Lyle Buell All-Star Cage Classic. Tim was the Class C State Champion in the 300 hurdles and 3rd in the 100 hurdles at the 1981 Nebraska State Track Meet and holds the school record in the 300 hurdles. In 1981, Tim was one of five finalists for the Wahoo Area Male Athlete of the Year. Tim spent 10 years on the Nebraska All-Time Boys Track and Field leaders in the 300 hurdles. Tim went on to play football and run track for Hastings College. In football, Tim earned All-Conference and All-District honors and was a two-time member of the All-State World Herald College team as a defensive back, earning Defensive Captain his senior year. Tim received honorable mention All-American honors for football at Hastings. In track, Tim ran the 400 hurdles. Tim and his wife Nancy now live in Gretna, Nebraska with their three kids, and Tim works for First Data in Omaha as a Director of Information Technology.
1965 Football Team
This team finished a perfect 10-0 season, won the Division and East Central Nebraska Conference Titles and was the Class D State Champion. Team members include; Mike Sukstorf, Bob Hall, Marv Barry, Steve Benke, Duane Maly, Jim Greenwood, Lloyd Wolfe, Dean Mahrt, Steve Schere, Don Mahrt, Richard Kirchmann, Mike Kaczmarksi, Gary Hoffman, Jim Lichtenburg, Steve Mahrt, Bob Shanahan, Rod Wild, Kim Wray, Bob Hansen, Larry Barrett, Keith Rohwer, Ed Vanderslice, Student Manager Clarence Thurlow, Pike Shanahan, Assistant Coach Dave Gitt, Joel Settles, Larry Reznicek, Joe Shanahan, Kent Hansen, Tom Henderson, Lynn Prchal, Richard Dunker, Steve McCauley, Coach Lonnie Slaughter, Student Manager Bob Reznicek, Ron Vacha, and Ken Rohwer.
Matthew A. Beacom – 1989
Matthew was the 1989 Valedictorian and UNL Regent's Scholar. He accomplished honors in athletics, academics, band, speech and drama. He earned his Doctor of Medicine Degree from UNMC, and has done three foreign medical mission trips. He is the Medical director for Three Rivers Public Health, two fire departments, and a national hospice agency. He does medical research and has currently assisted in 24 studies. Matt is a faculty member at UNMC. He founded Combining Agricultural Safety & Health, a nonprofit service promoting health and safety in rural Nebraska/ Board certified in Family Medicine, Dr. Beacom is in private practice in Fremont, Nebraska. Dr. Beacom was named the 2009 Nebraska Medical Association's Young Physician of the Year. He credits his family's support for his accomplishments. He married Carrie Ankersen in 1993 and has five children; Denton, Sierra, Maelee, Matson and Kelton.
LuAnn Soderling – 1980
LuAnn, class of 1980 Salutatorian, earned 6th place medals in both the Class C State Track and Field meet as well as the Class C State Speech competition in Oral Interpretation of Prose in 1980. She loved competing for her school in several extra-curricular activities and still holds the school's discus record. LuAnn went on to be a seven time All-American at Nebraska Wesleyan University in track and field as well as an eight-time NAIA Conference Champion in the shot put. She holds Nebraska Wesleyan indoor and outdoor shot put records, as well as the discus record. She was inducted into Nebraska Wesleyan Hall of Fame in 1995. LuAnn currently teaches English at Cedar Bluffs and coaches the junior high track teams. She has also been a coach for volleyball, basketball, and speech teams. She has many wonderful stories and memories from her years of participation and teaching at her alma mater.
Stephanie (Brauner) Chandler – 1992
Stephanie, Class of 1992 Valedictorian and the first National Merit Scholar to graduate from Cedar Bluffs High School, was named Academic All-State in volleyball, basketball, and track and was a varsity cheerleader. She was a member of the 19991 District Champion and Class C-2 third place volleyball team and was Conference Champion and two-time District Champion in Speech. A Regents Scholar at the University of Nebraska, she was a member of Homecoming Court, one of 30 graduating seniors inducted into Mortar Board, and named an Admiral in the Great Navy of the State of Nebraska. She received her law degree at University of Virginia and is a partner at one of the largest law firms in the country, Jackson Walker L.L.P. Stephanie is a community leader including serving as Chair of Family Service Association which reaches 50,000 families annually and on the Board of United Way's Masters Leadership Program. She is a repeat Texas Rising Star (top 2.5% of lawyers under age 40), selected as one of the top lawyers in San Antonio by the Scene in SA, and named 40 under 40 by the San Antonio Business Journal. She is also a proud mother of two boys, Wyatt and Brady, and has been married to Chip Chandler since 2000.
Joseph Shanahan – 1968
Joseph Shanahan attended the Benedictine Seminary in Naperville, Illinois the summer of summer 1968: "God did not want me to become a priest!" He earned a Bachelor of Science from Kearney State College and was an alternate Rhodes Scholar to Oxford University in England. He completed medical school and Residency in Family Practice at the University of Nebraska College of Medicine. He was a Marshal Scholar, studied at Harvard University and Tufts University in Cambridge, Massachusetts, the University of Manitoba in Canada, the University of Edinburgh, Scotland and Oxford University. Joseph was the first person from Cedar Bluffs to become an Eagle Scout in the Boys Scouts of America and the first Emergency Medicine Physician to be elected President of a medical staff. He opened the first free-standing emergency center in Illinois, and built and designed the first no waiting room/immediate care emergency department in Illinois, named The Shanahan Emergency and Trauma Center. He married Joann Sanatore in 1986 and has three sons Clancy Francis, Courtney St. Patrick and Cavan Feeny. "I am very glad I grew up in Cedar Bluffs because it gave me the confidence that I could succeed at anything if I was willing to work hard to accomplish my goals and dreams in life."
Kevin Yount – 1976
Kevin was a Cedar Bluffs High School three-year letter winner in football, basketball, and track and has school records in all three sports. He also competed in the inaugural 1976 Fremont Tribune basketball all-star game. He is the owner of All Metals Market, one of the largest scrap metal recycling facilities in Nebraska. Kevin married high school classmate, Lori Rood and they have three children, Ashley, Conner, and Clete.
Scott Roumph – 1977
Scott is a lifelong resident of Cedar Bluffs and a 1977 graduate of Cedar Bluffs High School. He achieved letters in three sports and was a member of many championship teams from 1973-1977. Immediately after high school he entered the electrical field. After serving an apprenticeship he became a class A Journeyman Electrician and went on to become a Class A Electrical Contractor. He has owned SECO Electric Company since 1994. Scott has donated many hours of volunteer labor and resources on various projects and causes for the school, community, and area throughout the years. He is married to Julie and has five children; Court, Taylor, Chad, Samantha, and Maddison, and one grandchild, Carter.
2002 Play Production
Class C-2 State Champions. Sarah Buchanan – Outstanding Female Performer, Jesse Dessler – Outstanding Male Performer. Champions of the ECNC and District contests. Team: Sarah Buchanan, Sean Callahan, Madelyn Lorenzen, Court Ehring, Kelsey Kerwin, James Czech, Heather Kortum, Kristen Hammrich, Jesse Dessler, Parker Stenger, Kristen Jirovsky, Theresa Hermanson, Jilian Wilson, Julius Kerschinske, Kelly Kucera, Brandon Stenger, Lindsay Pokorny, Noelle DeLaet, Dan Bittner, Matt Buchanan, Christopher Olson, Betsy Kruse, Laura Pearse, Caleb Dunker, Alex Kavan, Andrew Kavan, Savannah Kern, Mike Grosse, Cody Kavan, T.J. Lee, Michelle Wyman, Directed by Robyn Dalton and Kelly Dibelka
Lori (Hoppmann) Roumph – 1981
Lori participated in: volleyball 4 years, basketball 4 years, track 3 years, pep club 2 years, C.B. club 3 years, chorus 3 years, homecoming 1st runner up, 2nd team all-conference and 2nd team all-area volleyball honors. She volunteers countless hours to the Cedar Bluffs School and Youth Sports programs, including community baseball and softball programs for 25 years, president of the program for the last 20 years, coach for baseball, softball, community and junior high basketball, and Jaycee football, and had been an umpire for the past 15 years for baseball and softball games. Lori is active in the Cedar Bluffs Booster Club and is a member of St. Mary's Catholic Church. She was a business owner in Cedar Bluffs for 12 years and is currently employed at the Fremont Area Medical Center. She is married to Timothy Roumph and together they have three sons, T.J., Zach, and Connor, who have all graduated from Cedar Bluffs High School.
Rob Benke – 1976
Rob is the owner of Miown Fuel and Musiel Propane business in Cedar Bluffs and has been an active member of the community all his life. He has served as fire chief and has been a member of the Cedar Bluffs Fire and Rescue Squad for 35 years. Rob has also volunteered many hours to the school by serving on the football chain crew for 31 years. He is married to Audra and they have a daughter named Ally.
1947 Football Team
The Fall of 1947 was the first year that Cedar Bluffs High School had a football team. These men started the tradition. Many are lifelong members of the community and have been involved in helping Cedar Bluffs grow and prosper. Team members include; Gene Hartford, Bradley Clapham, Robert Cruickshank, Melvin Hoffman, Carroll Weigand, Lynn Keller, Jim Rooney, Vernon Janovec, Don Voboril, Don Lembke, Bob Wolfe, Harvey Callahan, Jim Malloy, Bill Calta, Merlyn Knutzen, Leonard Vech, and Kenneth Hapke
Sally Hansen – 1997
Sally was a four-year letter winner in volleyball, basketball, and track. She received 1st team all-area and all-conference honors for volleyball in 1995 and 1996. She holds the school record for most career kills with 599 and most digs for one season with 422. Sally received 1st team all-area honors for basketball from 1995-1997. She was chosen for 2nd team all-state basketball in 1995-1996. Sally holds the school record for most steals with 315, is 2nd for scoring in one game with 29 points, and 2nd for scoring in a career with 976 points. Sally was the 1995 conference champion in the 100m dash and 4x100 relay. Sally qualified for the state track meet in the 100-meter dash her freshman and junior year and in the 4x100 meter relay as a sophomore, junior, and senior. Sally is part of the 4x100 relay team that holds the school record with a time of 51.02. Sally was chosen as Girls State representative and homecoming queen her senior year. She attended Southeast Community College where she played volleyball and basketball. She received her Bachelor's degree from Wayne State College and Master's Degree in Counseling from University of Nebraska Omaha. Sally currently works as a Licensed Mental Health Practitioner.
Judy (Hoffman) (Nosbish) Harms
Judy Hoffman (Nosbish) (Harms) was involved in cheerleading, volleyball, pep club, girl's stator, and participated at the State Music Contest, Class officer, music. Judy was one of the first majorettes for the Cedar Bluffs high school marching band and was homecoming queen for the 1966-1967 school year. Judy is always willing to help wherever needed. Judy was an officer on the Cedar Bluffs Ball Program for 10 years where she coached Girls Softball and Boys Little League Baseball. Judy was President of the Cedar Bluffs High School Athletic Booster Club and President of the Home/School association. She has been on the Cedar Bluffs High School Alumni Association for many years; and was instrumental in saving the old graduation pictures from destruction when the old school was torn down. Judy raised money to buy a stand up picture display by selling bricks and pictures of the old school. Judy is one of our best boosters for the school and town.
Dallas Hartman
Dallas was an exceptional athlete. He was on the Cedar Bluffs 11 man Football team and Basketball team. Dallas holds many records in football and basketball. He was an all-around athlete. Football: Total offense (game) 304 yards vs Malcolm – 1980; Total Offense (season) 1452 yards – 1980; Total offense (career) 2947 yards – 1977-1980; Total offense (game) 296 yards vs Malcolm – 1980; Passing offense (season) 1365 yards – 1976; Passing offense (career) 2470 yards – 1978-1980; Touchdown passes (game) 4 vs Mead – 1978; 4 vs Malcolm – 1980; Touchdown passes (season) 18 in 1980; Touchdown passes (career) 31 – 1978-1980; interceptions (career) 6 – 1978-1980; Longest punt 67 yards vs Yutan – 1979.
Daniel Bittner – 2005
Daniel Bittner graduated in 2005 from Cedar Bluffs High School where he ran sprints and played high school football. In track, Mr. Bittner placed 1st in the 100 and 200-meter dash at the Nebraska High school State Track and Field Championships. Daniel currently holds 2 Cedar Bluffs records in track, one in the 100-meter dash and the other in the 4x100 meter relay. Daniel went on to continue his track success running at Nebraska Wesleyan University, where he was a two-time All-American in Division III National Track and Field. Daniel continued to give back to Cedar Bluffs Public School wherever he can, including being an assistant high school football coach for four years. Dan pursued his dream of working in the Fire & Emergency Medical Field as Firefighter and Paramedic.
Laurie Jirovsky – 2001
Laurie Jirovsky is a 2001 graduate of Cedar Bluffs High School. She was active in volleyball, basketball, track and was a member of the dance team. Her accomplishments include breaking Cedar Bluffs Volleyball records and making All-State Honorable Mention in volleyball. She was a 4-time state qualifier at the Nebraska High School State Track and Field Championships. Laurie is the current triple jump record holder at CBHS with a jump of 37 feet 1 inch. She qualified for Nationals twice, traveling to other states to compete including Iowa, Wisconsin and New York. Laurie brought home gold medals in the triple jump twice, and placed in the long jump and 4x100M relays multiple times at the Nebraska High school Track and Field Championships. After high school, she continued her track success competing her freshman year at Nebraska Wesleyan University before transferring schools. Laurie received her degree in Massage Therapy at the Myotherapy Institute in 2005. In February of 2006, at the age of 22, Laurie opened Shay Massage Therapy. Shay Massage Therapy operated in Fremont fo r5 years, before moving to David City where now resides.
Theresa (Mueller) Gustin - 2001
As a Freshman at CBHS Theresa was selected All-Conference and win the Gold Medal in the Long Jump, the 200M, the 400M, and the 4x100M Relay at the Conference Track meet, and qualified for the Nebraska High School State Track and Field Championships in the long jump, 200M and 4x100M relay winning the state Championship as part of the 4x100M relay team was undefeated her Freshman year. Theresa also placed 3rd in the long jump and 4th in the 200M dash at State. Her sophomore year Theresa again qualified for the state Track Meeting in the 200M, 400M and the 4x100 meter relay; placing 5th in the 200M dash. As a junior she qualified for State in the 200M, 400M, long jump and the 4x100M relay. She placed 4th in the 200M, 4x100M relay and brought home the GOLD medal in the 400M dash. She currently holds the CBHS record in the 400M dash at 58.53 seconds. She was honored as an All-Area and Saunders County Athlete of the Year in 2000. In high school, Theresa was involved in drama, Choir, Cheerleading, Volleyball, Basketball and Yearbook. After graduating from CBHS in 2001, Theresa studied and graduated from the Creative Center in 2004 with an Associates Degree in Graphic Design. She worked the Olathe News and FRD Communications as a Graphic designers in Kansas City. In 2009, she moved back to Fremont to work at Hammond and Stephens as a pre-press/marketing graphic designer. She married her husband Aaron in 2008. They have three children; Kane, Maddox, and Emery.
John Kern – 2007
John Kern was a two-time state medalist for the Cedar Bluffs Wildcat Track and Field team, winning the Nebraska High School State Championship in the 1600 and 3200 Meter Run in 2007. John continued his running career at Wayne State College, excelling as a distance runner while being an inspiration to his teammates. He placed at numerous conference meets and earned Academic All-American honors three years while attending Wayne State. John was named first team all-Conference finisher in cross country, he was a three-time NSIC Conference Champion and was the Outdoor Track Athlete of the Year. John finished his career at Wayne State College with a First-Place finish in the 10,000 meter run at the KU Relays, while compiling six school records, and appeared at the 2011 NCAA Division II National Track and Field Championships, where he placed 12th in the 3000 Meter Steeplechase.
Jeremy Prchal – Athlete 2001
Activities:
Jeremy was involved in Band, Drama, National Honor Society, Whos Who, and received many Math and Science awards.
Accomplishments:
Jeremy was an outstanding athlete at Cedar Bluffs High School. He led the football team to 2 straight playoffs, as the Quarterback. Basketball was his favorite sport. He led the Wildcats to respect the hardwood. Starting as a freshman, he led the team in scoring all 4 years. He currently holds 11 school records. He lettered in track, his freshman year. Jeremy switched to golf and was the number 1 golfer on the first team to qualify for state in 2001. Jeremy Lettered all 4 years in Football, Basketball and 3 years in Golf. Jeremy earned 12 letters, during his high school Athletic career. He was football all conference 1st team either on offense or defense. He was 3 years all area team. In Basketball he was all conference 1st team selection all 4 years and all area team 4 years. All State honorable mention 3 years.
1998 Women's 4x100M Relay
Team members include; Theresa Mueller, Jessie Ocander, Lisa Christ, and Tiffany Privit
Aaron Alston – 2001
Aaron Alston was an avid sportsman, participating in football, basketball, and track and field. He proved himself skilled in each of these sports and an asset to his school and teammates. Mr. Alston was the 2001 Homecoming Court King. After graduation in May of 2001, Aaron made the decision to serve his country and enlisted with the Nebraska Air National Guard; 155th Refueling Wing in Lincoln, Nebraska. In 2003, he was transferred to the United states Air Force. While in the Air Force, he received as Associate Degree from the Community College of the Air Force in Recreation, Food, and Fitness Management. He was Honorably Discharged in November 2009 with the rank of E-5 Staff Sergeant. Aaron continued his education at the University of Nebraska-Omaha, and earned a Bachelor's Degree in 2013. Mr. Alston currently lives in Omaha, Nebraska and is employed as an internet sales director for Alston's Corner. Aaron lives with his wife and children and considers his family his greatest achievement.
Ben Hansen - 2002
Ben Hansen was a skilled athlete at Cedar Bluffs High school, in football, basketball, and track. Hansen started for the Cedar Bluffs football team as a freshman. In the following 3 years, he was All-State, All-Area, and All-Conference. On the basketball court, he was a four-year starter and awarded All-Conference honors his senior year. In track, he qualified for the state track meet all four years, while running the 100, 200, 4x100 and the 4x400 in his senior year. He was a four-year letterman in each of these sports and proved himself a team player while making many personal gains on the court and field. Ben's hard work is evident as he continues to hold school records in football for 4,674 in total offensive yards. He had 4,609 yards rushing in his career, 528 points scored, 28 touchdowns in a single season, 80 career touchdowns, and a school record 79-yard touchdown run. From 2002 to 2005, ben played football for the Huskers with an excellent academic standing, and was on the Big 12 Academic Honor roll. After graduating from the University of Nebraska-Lincoln in 2006, Ben pursued a teaching career with Elkhorn Public Schools. He continued his education and earned a Master's Degree in Educational Leadership from Doane College in 2010. Ben currently resides in Cedar Bluffs, Nebraska and is in his 8th year of teaching 5th grade at Hillrise Elementary School in Elkhorn, Nebraska. He continued to use his athletic ability with students at Elkhorn Middle School, where he coaches football, wrestling, and track. Ben is married to Dawn, and they have two daughters, Taylor and Gwenyth.
Dr. Ken Nelson
Dr. Ken Nelson spent countless hours serving the families and students in our community. He is well known as a teacher, counselor, and coach. From the fall of 1969 until the Spring of 1976, he was the Cedar Bluffs head football coach. His lifetime record was 59 wins and 14 losses. Cedar Bluffs football teams were rated in 5 of the 7 years he served as coach. During this time, there were several "one-loss" seasons. The 1973 team was undefeated and named the state champions by the Lincoln Newspapers, and were named second place in the Omaha World Herald. Dr. Nelson touched the lives of many track and field athletes. He remembers the track team, that began with only three young men, and grew to 36 participants. The Wildcat track teams were very successful during those years, winning several district championships, and many track team members qualified for state. He always expressed great appreciation to the athletes for their contributions to the Wildcat success during his years as coach. Dr. Nelson went on to serve as a superintendent in Nebraska schools for over 20 years. He lives in Kearney, Nebraska and is an associate professor in the educational Administration Department at the University of Nebraska at Kearney. He and his wife have many fond memories of their years in Cedar Bluffs.
Jack Nitz
Following graduation, Jack graduated from the Mason City School of Auctioneering. His contributions to the profession are well documented, and his Company, Jack Nitz & Associates, is known throughout the United States. Jack has trained and mentored Auctioneers across the country. In 1981, he received his Certified Auctioneers Institute designation. He served on the Board of Directors of the National Auctioneers Association. He was inducted into their Hall of Fame in 1997. Jack was Chairman of the National Auctioneers Association Convention in 1991, inducted into the Nebraska Auctioneers Association Hall of Fame in 2009. Jack and his wife, Delores, were the founders of the Nebraska Auctioneers Association Foundation where he served on the Board of Directors and as President, and was name Auctioneer of the Year by the state association. Jack has been an active member of many civic and faith-based charities. He established the Cedar Bluffs Community Auction nearly 50 years ago, that raises money for several charities. He was active in 4-H and helped many children further their 4-H activities. He and his wife, Delores, provided animals for children who could not acquire animals. Jack also donated his professional services to the Saunders County Fair 4-H Auction, served on the Board, and one term as President. Mr. Nitz served on the Cedar Bluffs School Board in the 1970's, and was instrumental in building the new gym and classrooms. Mr. Nitz's legacy through his professional and personal life is far reaching and his generous donation of his time and talents has touched many.
Dustin Gerdes: 2011
FOOTBALL - Four Year Letter Winner 2007-2010 - 2009: Longest Touchdown reception from scrimmage – 74 yards (School Record) - 2010: Peru State Football Scholarship All-State Honorable Mention 1st Team All-District (Offense) 1st Team All Area-Wahoo Newspaper (Offense) 1st Team All-Area Fremont Tribune (Defense) Leading Wide Receiver in Class D1 - School Records (Passed/Current) Receiving Yards in a game – 201 Receiving Yards in a season – 960 Receiving Yards in a career – 1,443 Receptions in a single game – 11 Receptions in a single season – 50 Receptions in a career – 85 TD receptions in a season – 17 TD receptions in a career – 23

TRACK - 2010 State Qualifier (400 Meter Dash) - 2011 State Qualifier (400 Meter Dash, Triple Jump, 300 Meter Hurdles) - 2011: All Area Track & Field Team Captain (Wahoo Newspaper)BASKETBALL - 2009 Conference Tournament Champion - 2010: Conference Tournament Champion - 2011: Honorable Mention Frontier All-Conference Selection OTHER: - 4-Year FBLA Member - 2010: Male Athlete of the Year - 2011: Male Athlete of the Year - Cole Sukstorf Scholarship Recipient - Peru State College Football Scholarship ATHLETE
Trenton Kirchmann: 2011
FOOTBALL - Four Year Letter Winner from 2007-2010 - 2009 Academic All-State 2nd Team All-Area Wahoo Newspaper - 2010 All-State Honorable Mention 1st Team All-Area Wahoo Newspaper (Offense) 1st Team All-District, Honorable Mention All-Area Fremont Tribune (Offense) Academic All-State (Omaha World Herald, Lincoln Journal Star) - School Records (Old & Current) 2009 Longest Touchdown Pass from Scrimmage – 74 yards o 2010 Total Offense in a game – 442 yards Passing Yards in a game – 414 yards Passing Yards in a season – 1,710 yards Passing Yards in a career – 2,722 yards TD passes single game – 5 TD passes in a season – 25 TD passes in a career – 37 BASKETBALL - Four Year Letter Winner - 2008-2009 Conference Champions - 2009-2010 Conference Champions - 2010-2011 Academic All-State - 2010-2011 2nd Team All Conference - 2010-2011 Honorable Mention All-Area (Fremont Tribune) - 2010-2011 Honorable Mention All-State (Lincoln Journal Star, Omaha World Herald) OTHER: - Four Year FBLA Member - Elementary Basketball Program Assistant - Outstanding High School Leader Award from Midland Lutheran College - Breakfast of Champions 2007 - RWTB Martial Arts from age 6-18 Black Belt 10 Taught Martial Arts Classes, Weapons Status Recipient - 2004 Cornhusker State Games Gold Medalist in Weapons - 2007 National Points Champion - 2009 Martial Arts Hall of Fame - High School Social Studies Teacher, Coached Basketball and Track from 2015 – Current: Coaches AAU Basketball, Runs the Weights Program Community
Garlyn Grosse: 1970
Community Involvement: - Member of the Merchants Organization in Cedar Bluffs - Member of the Community Club in Cedar Bluffs Christmas at the Auditorium Community Auction Chaired the Auction - Member of 125th Anniversary Celebration Committee - Active Supporter of Cedar Bluffs School District - Played Basketball & Football as a Cedar Bluffs student - Basketball & Football Letter Winner - Volunteer High School Football Statistician (Home & Away Games) - Active Church Member Served as Treasurer Served as President Served as Board of Finance OTHER: - School Board Member for 16 years - Attends local and national school board meetings - Attends Legislative Forums related to the school - JPA Member School and Community Improvement Committee
The Cedar Bluffs High School Athletic Hall of Fame was established to formally honor the memory and contributions of the many outstanding athletes, coaches, and supporters of our athletic and activity programs. The Hall of Fame serves as a symbol of our appreciation of the excellence, honor, and devotion displayed by these celebrated individuals and teams.